This story appeared on the Flintside. Read more here.
Hamilton Community Health Network is hosting several vaccine pop-up clinics throughout the month of March for those who would like to receive a COVID-19 vaccine or vaccine booster shot.
Studies have shown that vaccinations remain the safest strategy for avoiding hospitalizations, long-term health outcomes, and death. The COVID-19 vaccines help protect people by creating an immune response in the body without potentially severe illness or post-COVID conditions.
Although getting vaccinated is a personal decision, Hamilton Health Network encourages everyone to be vigilant of their health and wellness by providing free, safe, and easily accessible pop-clinics throughout the Flint area.
The remaining dates, times, and locations for Hamilton's pop-up clinics are included in the flier below.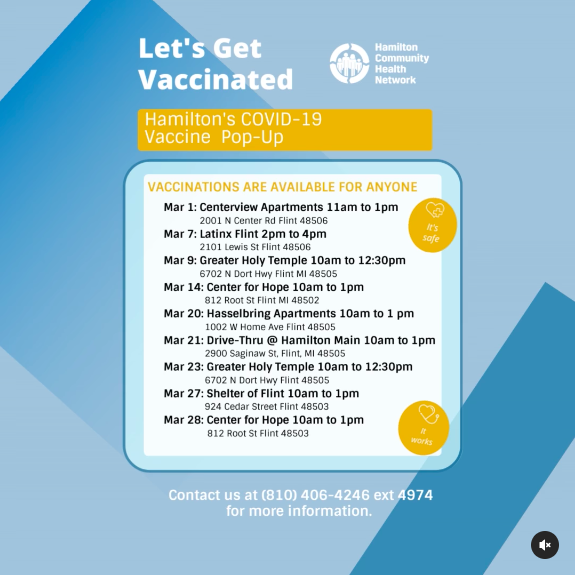 It is important to know that COVID-19 can be spread from person to person through respiratory droplets and from contact with contaminated objects.
How to know when to test for COVID-19:
If you are experiencing a fever of over 100 degrees
Severe cough
Shortness of breath
Seek emergency care: 
If you are having trouble breathing
Persistent pain or chest pressure
Confusion
Bluish lips or face
If you have received a positive COVID-19 test result, it is suggested to self-quarantine at home, if possible. Some safety guidelines include:
Remaining isolated from others
Using separate restrooms from others in the home
Refraining from sharing personal household items
Wearing a face mask covering mouth and nose
Wash your hands often (for at least 20 seconds) followed with hand sanitizer
DO NOT touch others
DO NOT touch shared surfaces
Clean all surfaces daily
Use cleaners according to label instructions
Stay hydrated
Avoid touching your eyes, nose, and mouth
Wash your laundry thoroughly
Lastly, stay home until your symptoms have cleared up and you have tested negative for the virus.